March 16, 2015
For immediate release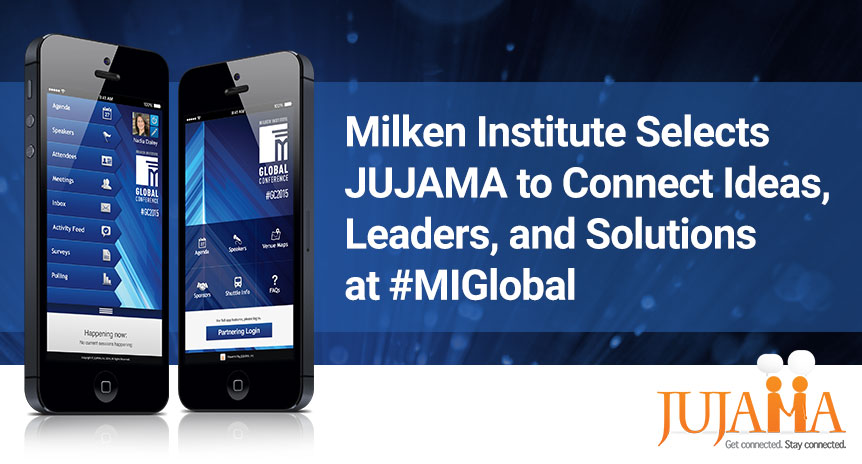 SCRANTON, PA — The annual Milken Institute Global Conference convenes some of the world's most extraordinary people to explore solutions to today's most pressing challenges in financial markets, industry sectors, health, government and education. JUJAMA, Inc., the leading provider of event networking apps, has been selected to power the one-on-one networking at the 2015 Global Conference.
David Bialkowski, JUJAMA Executive Vice President, is heading the company's project for the Milken Institute. He said, "The purpose of the Global Conference is to increase international prosperity by advancing collaborative solutions that widen access to capital, create jobs and improve health around the world. We're glad to provide the Milken Institute our app's capabilities in conveying the complex agenda and hundreds of profiles, along with streamlined meeting scheduling capabilities. We are confident the JUJAMA event app will significantly facilitate the small group meetings during which Global Conference attendees work on the pragmatic solutions that are the goal of this event."
Nadia Dailey, President and CEO of JUJAMA, added, "Whenever collaboration, networking and partnering are a key part of a conference event, JUJAMA heightens attendee productivity by making it quick and easy to request, accept and schedule meetings at mutually available times. JUJAMA has been powering networking meetings at Partnering4Cures, the annual Milken Institute biopharmaceutical event, for several years. We're proud to now assist in the achievement of the important solutions reached by the Global Conference."
Since 2010, JUJAMA, Inc. has been a leading provider of well-designed, customized, fully supported event apps, mobile conference apps and associated event technologies for meetings and conferences in many industries around the world. With 24/7 customer support and available onsite customer support, JUJAMA delivers technologies that make events more productive for attendees, exhibitors and sponsors, and more successful for event organizers.
For More Information: Adam McIlwee, Director of Social Media Strategy, 570-209-7670 or adam@jujama.com