Jujama Desktop &
Mobile Apps
Robust, feature-packed, and built from the ground up with the conference organizer and their attendees in mind, our event apps enable Better Event Experiences.
The Complete Event Platform
Mobile and Desktop Apps with Features to Power Any Event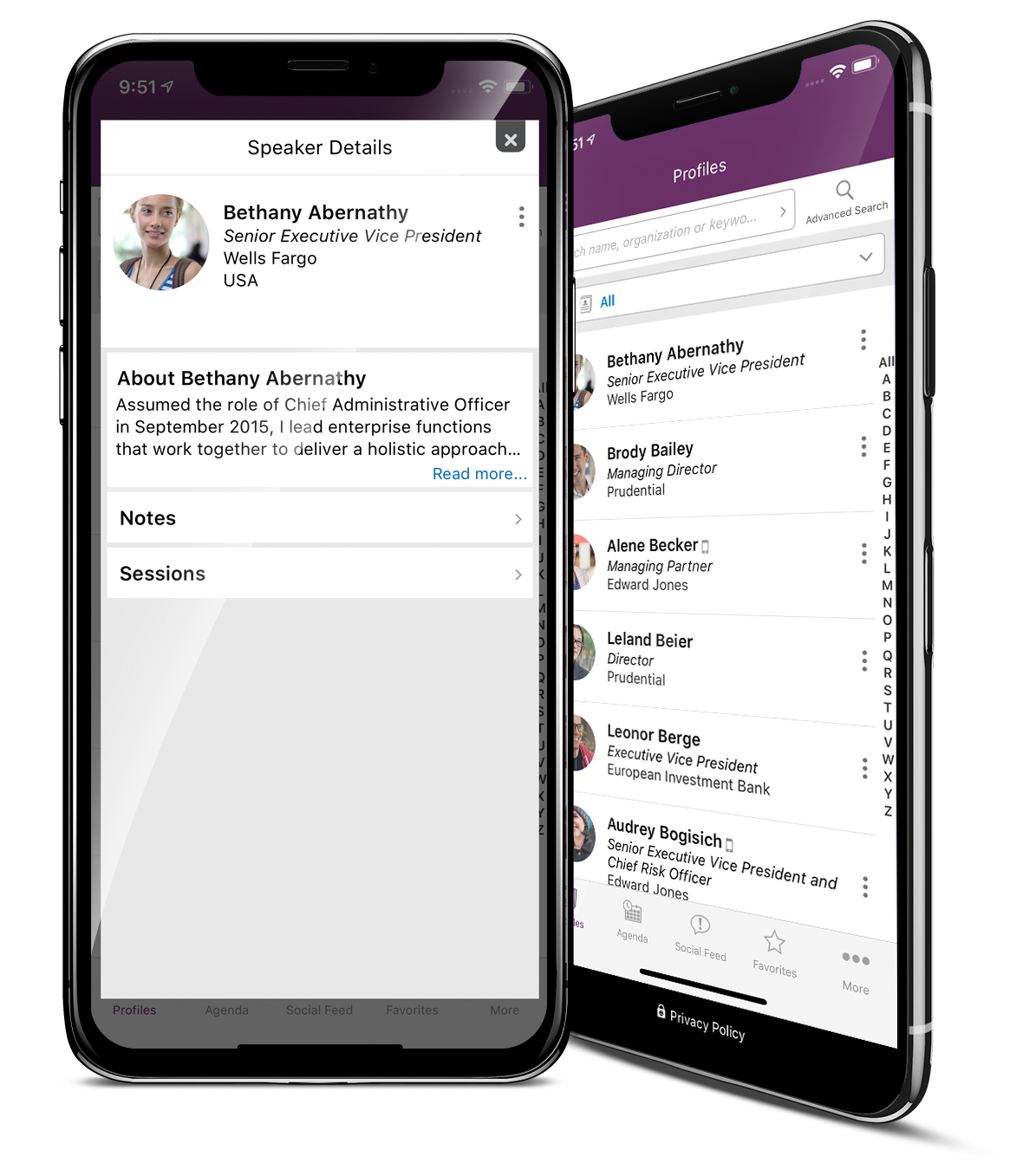 Attendee Profiles
Allow your attendees to introduce themselves to one another with full bios and profile photos. All profile data can be optional and can be turned on/off by the Organizer.
Learn More
Key Benefits
Provide company documents and presentations
Exchange profile / business card information with other attendees
Company profiles
Photos, video, and documents
Instead of just a registration roll, the media-rich participant profile lets your attendees not only provide their contact information but really tell their story. Jujama allows attendees to attach Word documents, videos, Excel sheets, PDFs and Powerpoint slide decks to their profile so that each attendee can craft the profile into a real selling tool, letting others know who they are, what they bring to the table and what they are looking for at the conference.
Robust Content Options
Attendees can review content posted by conference administrators or other users and post their own.
Learn More
Conference organizers can add custom tabs with additional content using HTML, direct URL links, or document or PDF uploads. For important content, use the option to immediately send a push alert with a direct link.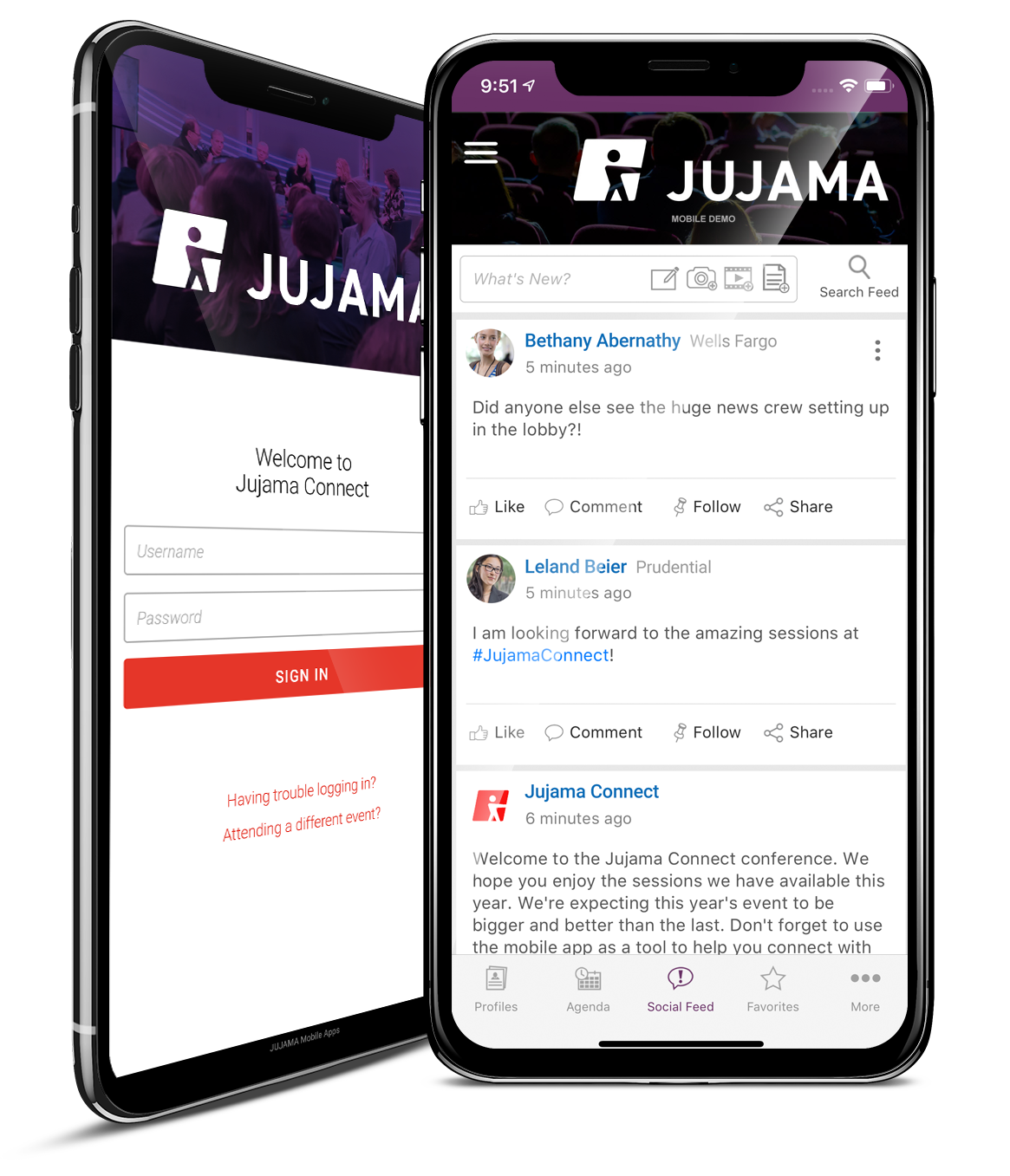 Social Feed
Engage your attendees with your own, private social network for your event. Anyone can post their thoughts or photos and mention people, companies, sessions or sponsors.
Learn More
Key Benefits
Create a feeling of community
Rich content sharing for all attendees
A key area for sponsorship
Attendee promotions and networking
Photos, video, and documents
Just like other social media apps, Jujama's in-event, private social feed offers a place for attendees to update their status: adding pictures, videos, or documents.
Following posts and using trending hashtags within the feed are a great way to spark discussions and connect with other attendees. Attendees can see what others are posting about the conference, offering the opportunity to like and comment on others' posts, as well as share these posts on their personal Twitter and LinkedIn accounts.  
An attendee can mention people, companies, and even sessions in posts and comments. Mentioning another person tags their profile in the post, notifying the user of the post and allowing others viewing the post to explore their profile with a simple tap on their name.
Conference organizers have the opportunity to include sponsorship advertisements within the social feed and can choose to have them show up in-line or pin the post to the top.
Direct Messaging
Direct and one-to-many messaging.
Learn More
The messaging feature allows for direct and private messages to be sent to other attendees for any reason. This allows for network growth with new connections. Whether messaging for information or asking to meet up for coffee, the messaging feature allows for users to stay connected and well informed. Should you want to send out a mass message the app allows for group messaging to make sharing information easier and more efficient.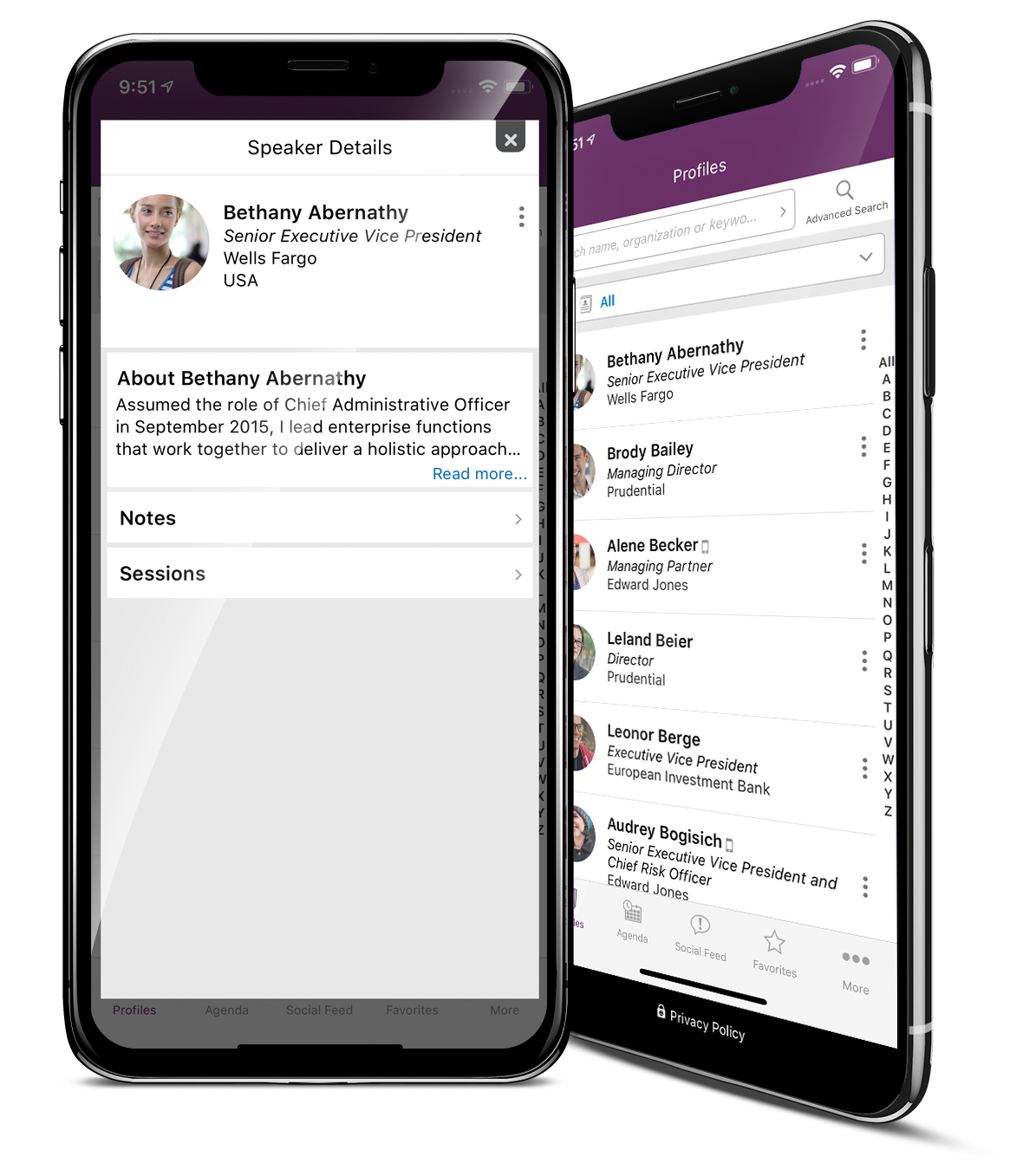 Speaker Listing
Attendees can view speaker data, browse presentations, and even rate the speakers.
Learn More
The app houses a complete directory of all your speakers where attendees can learn more about the who they are and what sessions they are speaking at. Attendee's can easily build out their personal schedule when viewing speaker profiles, take notes on the speakers or sessions, and view any content made available by the conference, like presentations or videos. As a conference organizer, you can have your audience rank speakers for your post-event analysis, link all speakers to their sessions and content, and use a built in plug-in to display them all on your website.
Pre- & Post-Event Networking
With both desktop & mobile event apps available anytime, participants arrive better prepared and ready to maximize their time at your event.
Learn More
Key Benefits
Rich attendee and company profiles
Direct Messaging
Private Social Feed
E-Business Card Exchange
By combining the features available within the Jujama apps — an attendee is empowered to network with event attendees like never before.
Secure and private, yet powerful and easy-to-use. Attendees can find who they are looking for, arrange meet ups, direct message, exchange information, and follow up after the event.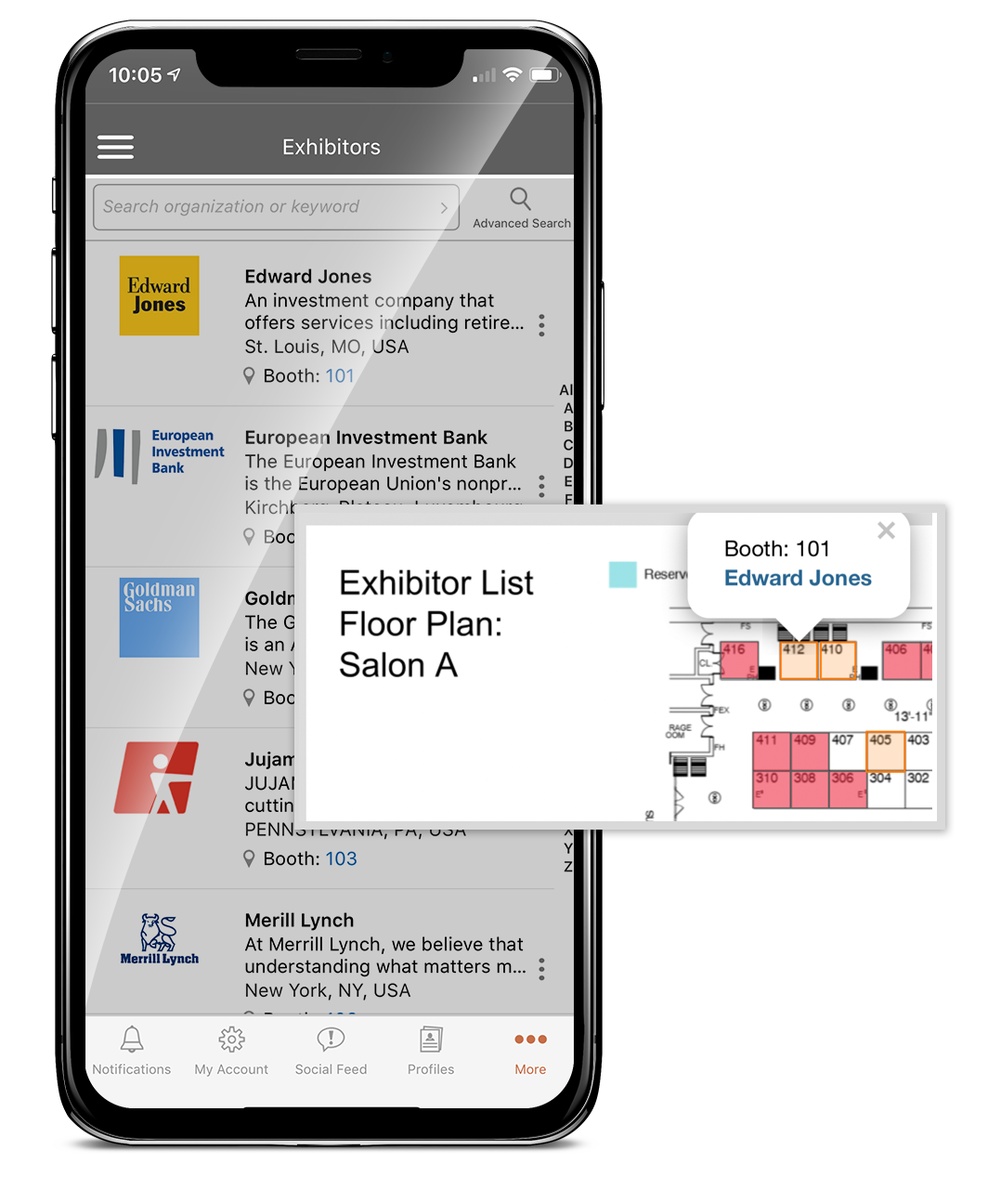 Sponsors & Exhibitors Listings
Exhibitor details, including description, website, and booth number can be added for attendees to browse. Enhance this feature more by including an interactive floor plan with or without mapping!
Learn More
As separate lists, Sponsors and Exhibitors can be shown to attendees that would like to gather more information about the sponsors of the event they are attending. A complete bio can be built including logo, web site, thorough description, floor plan linking, and much more. Even the company's personnel that may be on hand at the event can be listed.
Engagement Opportunities
Message Center Emails, Push Alerts, and Engagement Cards.
Learn More
Event attendees can easily take action on useful event announcements, messages from contacts, and meeting invitations.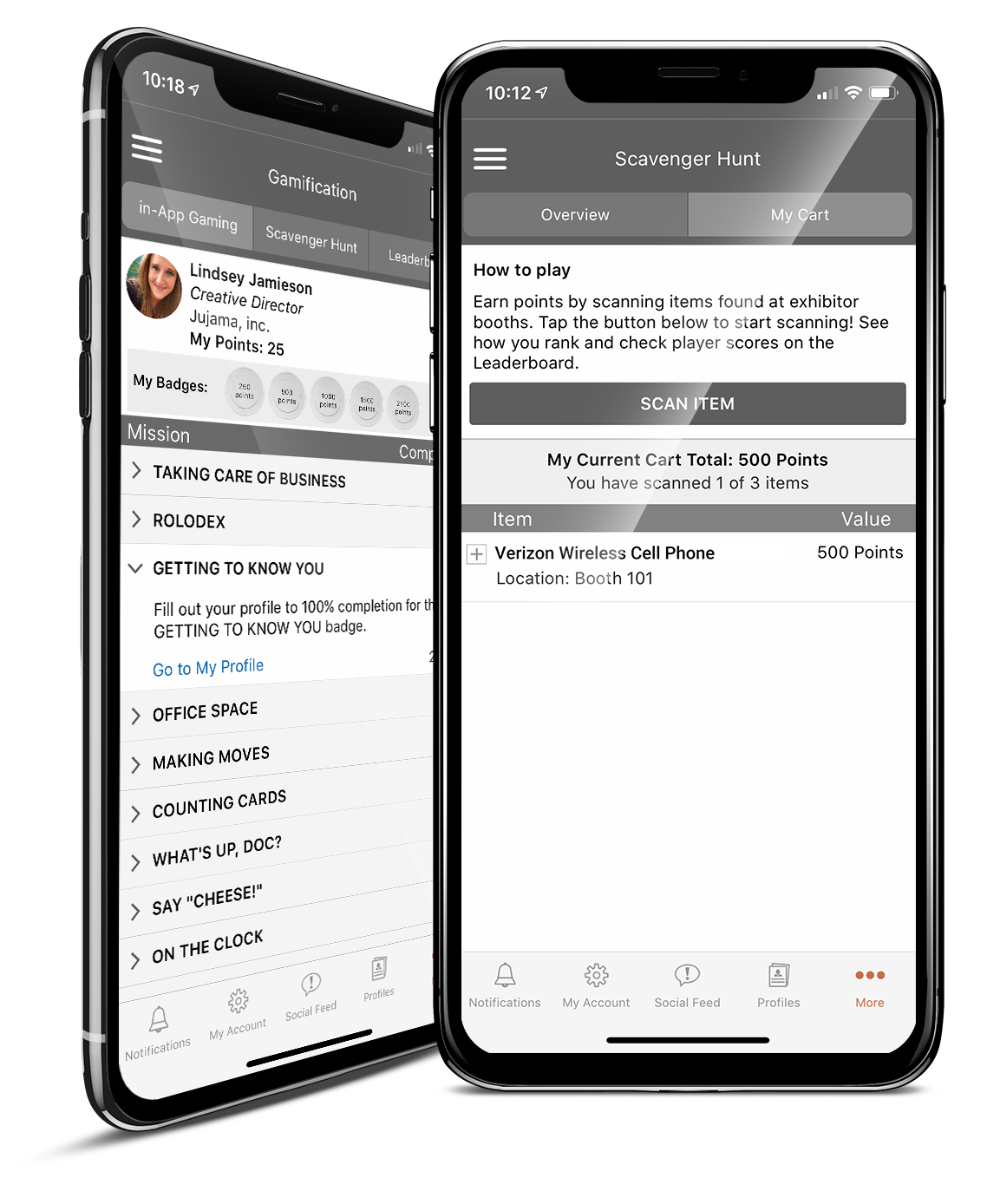 Gaming
Encourage engagement with our task-based in-app game, or get your attendees moving with a scavenger-hunt!
Learn More
The In-App Gaming features are a great way to keep conference attendees involved in the day's activities, encourage them to use app features, and network with one another. Choose from over 15 different game types that allow participants to earn points and badges for completing various tasks.
Implement a Scavenger Hunt to navigate attendees through your conference space. Attendees can use the Jujama app to find and scan items that are part of a scavenger hunt to earn points and land them a top-ranking spot on the leaderboard.
Sponsorship Opportunities
Offer your sponsors the best sponsorship features such as push notifications, splash screens, banners, sponsored posts on the social feed, and even gaming options.
Learn More
Within the app, as well as in transactional emails, alerts, and other correspondence with attendees, a sponsor's brand can be clearly visible and clickable.
Sponsors can also be encouraged to post to the Social Feed themselves, sharing links, photos, hashtags, or their own Sponsored sessions for attendees to check out. Using the Social Feed in combination with other Sponsorship opportunities that Jujama provides really gives the Conference Organizer limitless possibilities to help their Sponsors get a return.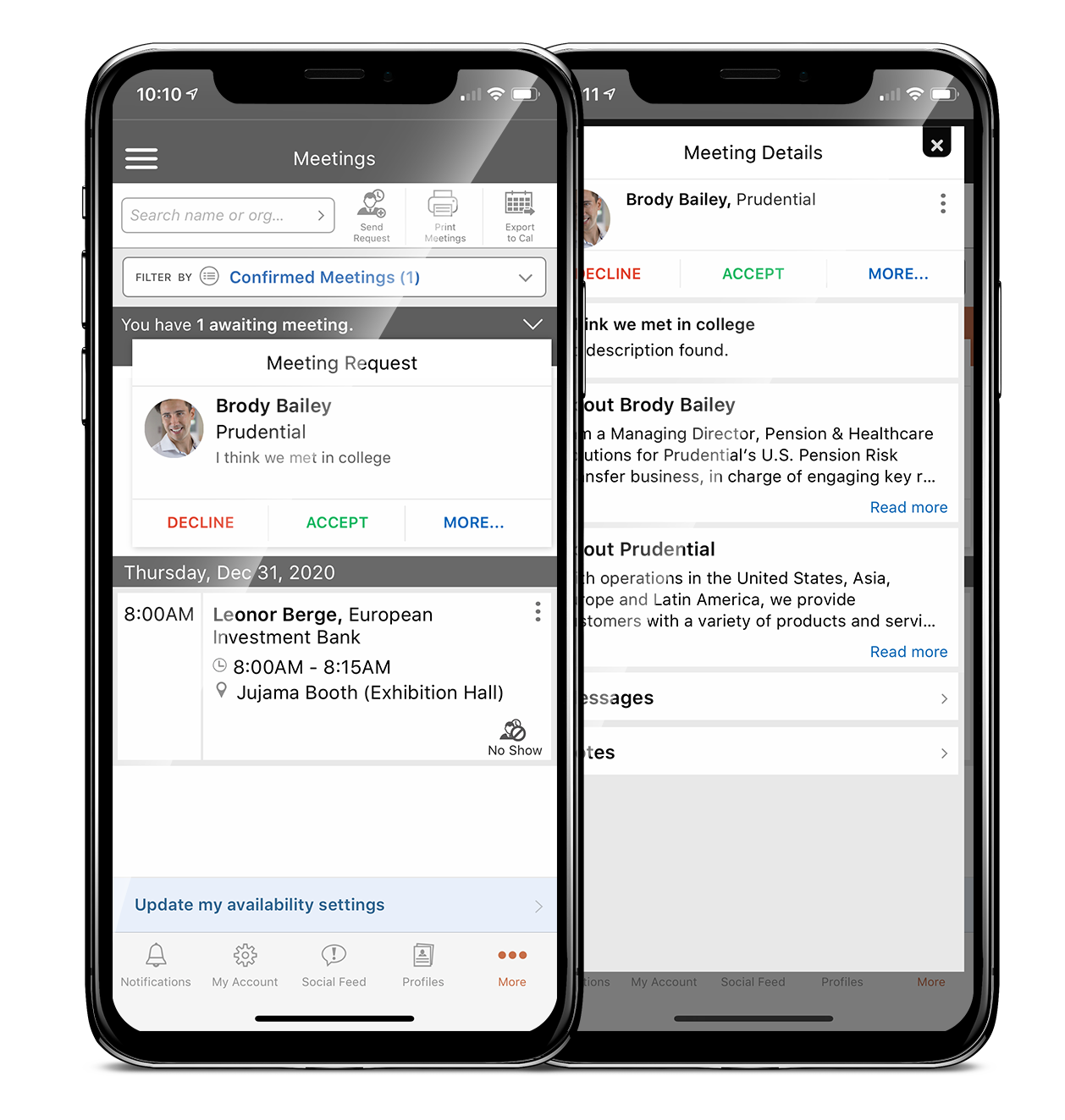 One-to-One Meetings
Attendees can request meetings and have them auto-scheduled at a mutually convenient time, with automatic notification emails to all parties — a great productivity boost.
Learn More
Jujama provides the most robust partnering system on the market. We specialize in providing meeting solutions that work for small highly focused meetings to events with thousands of attendees that need to use complex searches to navigate other attendees. Jujama's meeting options provide various ways for you to structure your event. You can customize who can meet with whom by registration types, organization, or on an individual basis. We allow for administrators to tailor this feature to your event's specific needs with our easy-to-use settings. We understand that every meeting is unique with conference organizer's having specific goals in mind. We have built our One-to-One Meeting Module to accommodate all shapes and sizes and be the go-to solution for networking in the Industry.
Human Customer Service
Putting on an event is a big task. We want to make it easier for you. 
Learn More
In addition to our searchable, online support documents and video tutorials, our customer service reps are ready to help you get the job done. We're available for questions around-the-clock. 
For those teams that are short on time or staffing, our white-glove service is available, too. Our dedicated team can handle graphic design, content and data uploads, and can even field questions from attendees.
On-Site Support for your event is also available — have the Jujama team at your event to handle any on-site networking questions.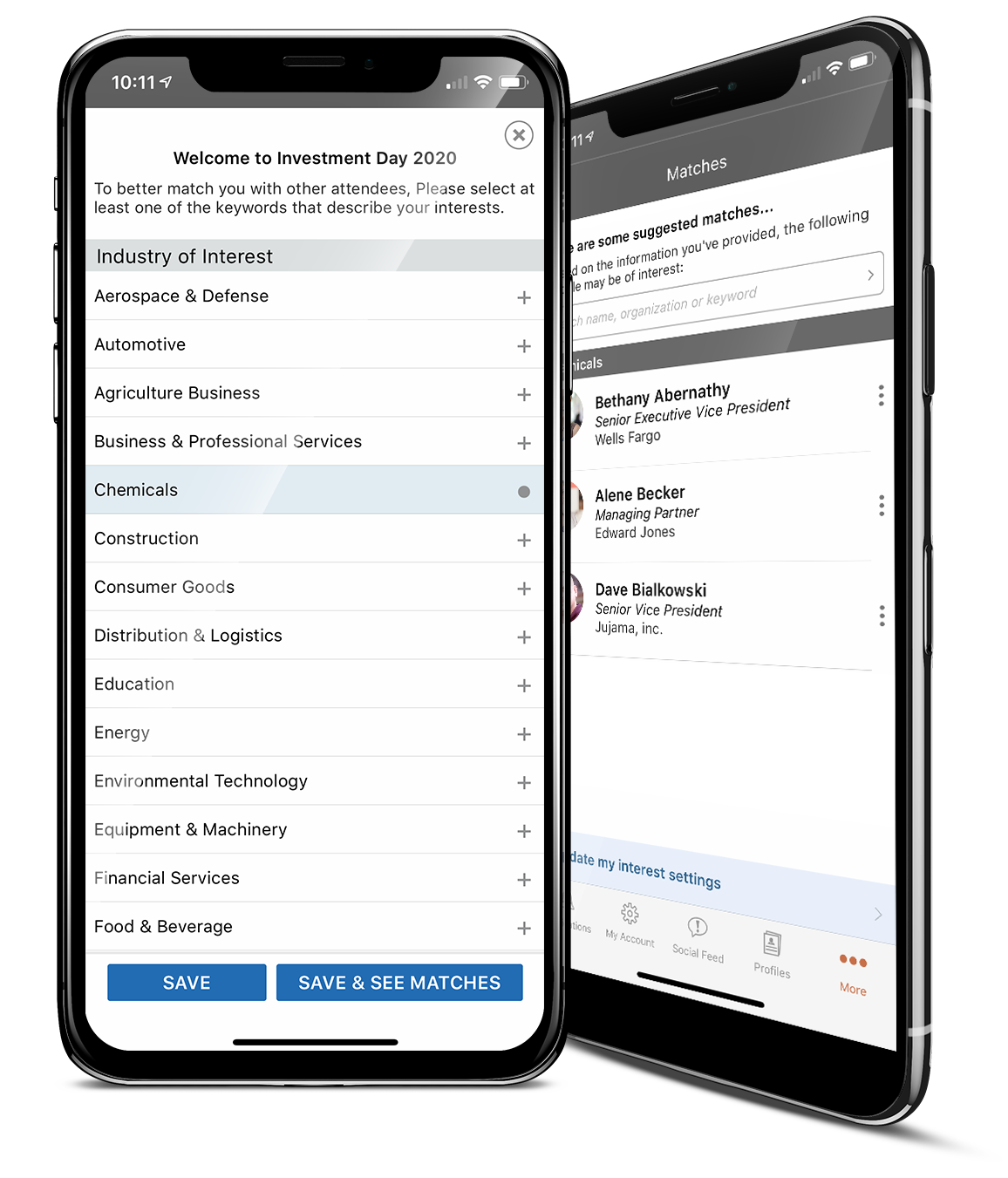 Advanced Matchmaking Hub
Connecting the right buyers to the right sellers is key. Facilitate networking by matching attendees based on their interests.
Learn More
Our Matchmaking feature is ready to unlock the potential. In addition to essential networking features like an active social feed, private messaging, and one-to-one meetings – our platform provides customizable machine learning matchmaking features.
Push Alerts
Push alerts let you update attendees in real-time. Busy? Let the system send scheduled alerts and messages to your attendees.
Learn More
Key Benefits
Instant push alerts on demand
Scheduled messages
Excellent Sponsorship exposure
Actionable
Keep your attendees "in the know" with push alerts directly to their mobile device.
Jujama offers both instant and schedule push alerts that allow conference organizers to send out reminders of upcoming events or other get-togethers that may come up over the course of the event through device notifications to all attendees who have enabled push-notifications to be sent to their phones.
Prime sponsor exposure can be gained by using push alerts. Conference organizers can choose to sell or offer sponsors to have their content appear through push alerts. Just as easily as sponsors can send out their push notifications, users can use the app to request meetings with said sponsor, providing all around benefits.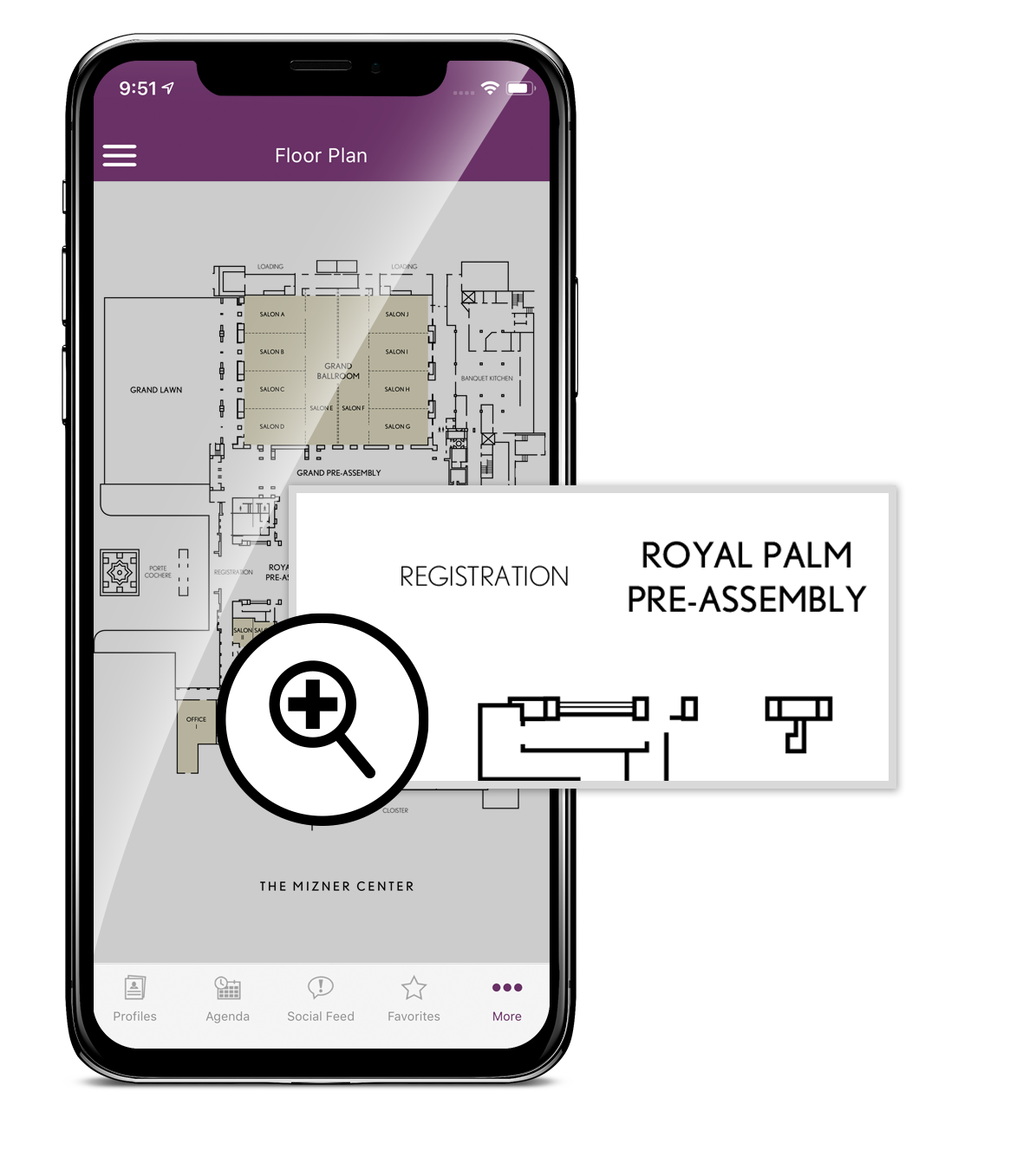 Floor Plans
Large venue? No problem. Provide unlimited floor plans for your attendees to navigate the space easily and find their next session. Or link to 3rd-party interactive maps.
Learn More
Key Benefits
Unlimited Floor Plans
3rd Party Integrations
Interactive Floor Plans
Agenda, Exhibitors, and Sponsor linking
Basic or interactive floor plans can be included to give your attendees a sense of direction.
Live Polling
Use live polling during a session to engage the audience and display results in real-time on the big screen.
Learn More
Polling is a live feature used during a session to engage the audience. Users can participate in a poll directly from the app. Results can be displayed in real-time onto a large screen in the room or directly to a speaker for use in the presentation.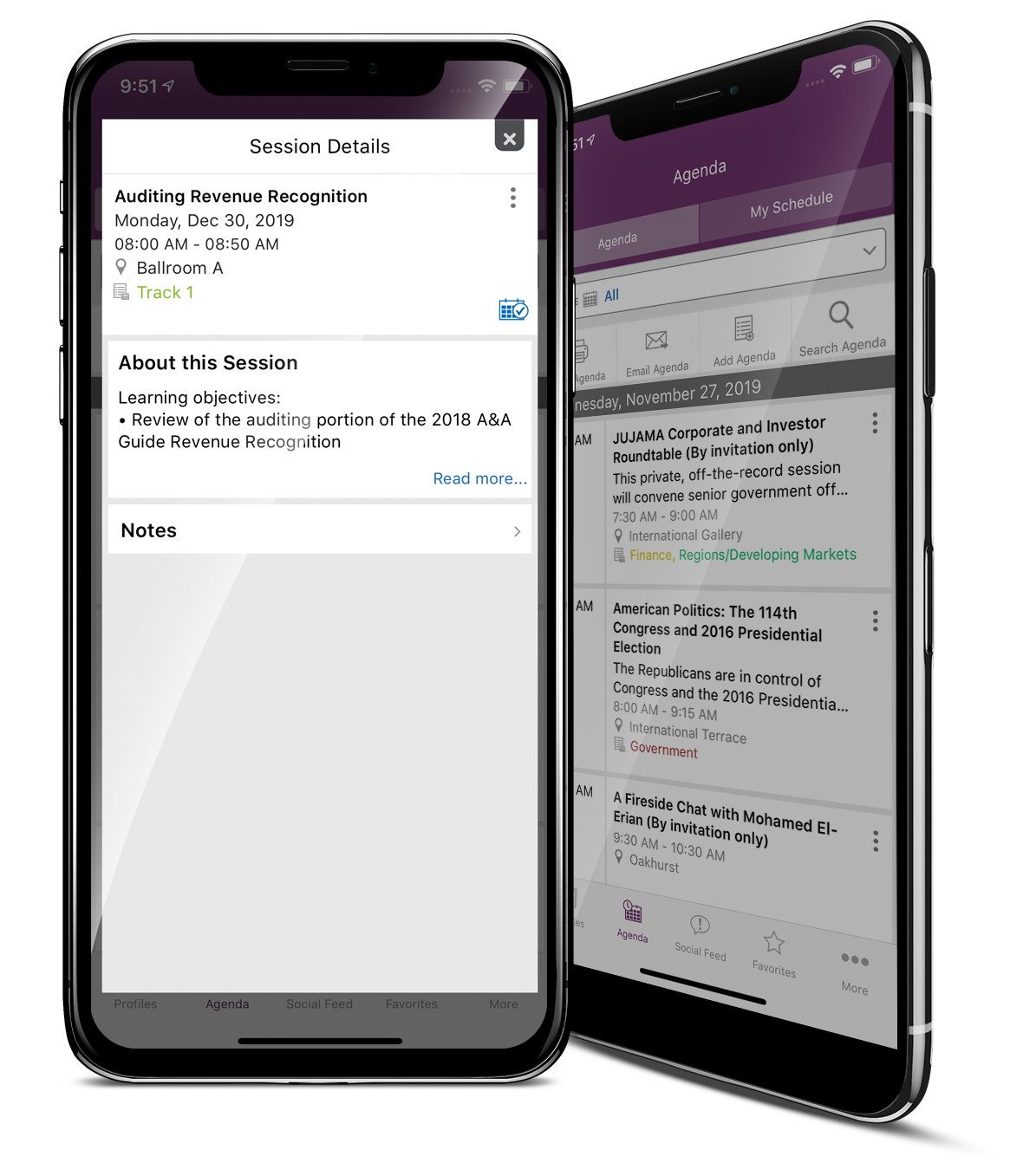 Agenda
Showcase your event's full schedule — single track, multi-track, multi-day with a powerful search. Attendees can create their own curated schedule to be sure they get the most from your event.
Learn More
Key Benefits
Full offline search capability
Single or Multi-track
Highly configurable
Session grouping
Attendees can manage personal schedule
Reduce printing costs and keep attendees up to date, even with last minute changes. The agenda is an interactive, all-inclusive list of sessions in an easy-to-read format on desktop, tablet, and mobile. Each session can contain rich content including time, location, relative documents, speaker profiles, session notes, and more.
By using the Agenda an attendee can build their own personal schedule to know where to be and when for the duration of the event.
Sponsorship opportunities within the Agenda are strewn throughout the app – such as Session Sponsors.
Looking for more?
Jujama has provided both the basics and top-notch features for over 10 years. Our clients are thrilled with our virtual solutions. We continuously offer new features and if you're looking for something specific, call our team and let us know.
Learn More
If we don't have what you're looking for, we can build it for you! Call our team to talk about your next event.
Additional Features Include:
Container apps
Electronic business cards
Live comments
Check-in functionality
Groups
Secure Notes
Surveys
Custom branding options
Favorites
In-app notifications
Gallery
About
FAQ
Quizzes & Tests
Custom Tabs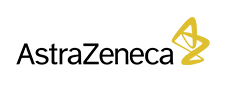 The developers of Jujama and BioProScheduler, have a deep knowledge of the life sciences industry, informed by their founding of MedTrack, the life sciences corporate intelligence database. Because of that history, we knew the high quality of their technologies and their appreciation for the needs of life science companies.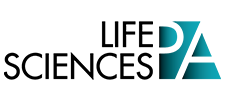 I don't know how we could have done some of our events without Jujama. Their customer service is unparalleled, they're cost-effective and they're willing to adapt. As we have expanded, they've grown with us. Jujama is our favorite partnering system vendor!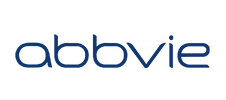 My organization absolutely loved the Jujama platform. My colleague and I went through the list to set up meetings and found the ease of use to be great. Additionally, this by far the best way to drive traffic to your booth, or set up meetings if the expo allows for that. I wish every expo had this system!
Let's Get Started
Engage Your Audience.
Get Started Today!