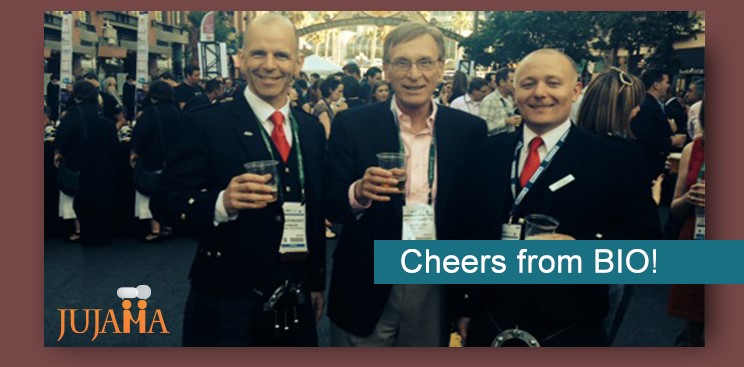 JUJAMA Chairman Bob Naismith and I spent much of last week at BIO 2014 in San Diego, meeting with JUJAMA clients, visiting with old friends and listening with interest to talks that captured the direction and outlined the future of the life sciences industry. As Chairman and CEO of JUJAMA, respectively, Bob and I have been working in and around the life sciences field for many years, which gives us an advantage when it comes to designing conference apps like JUJAMA's and scheduling tools such as BioProScheduler, which are both highly relevant to the needs of life sciences professionals seeking to maximize their networking opportunities at all-important industry conferences like BIO. (See our case study on AstraZeneca for more detailed information.)
We were happy to speak in person with our customers from numerous biotech associations and conferences that use JUJAMA's event platform and conference app to run their meetings, including state associations from Pennsylvania (another informative case study here), New Jersey, New York, North Carolina, Florida, Washington and Colorado; regional groups such as Mid-Atlantic Bio and Southeast BIO; national events like Partnering for Cures; and international customers including the Australian Biotechnology Association. We have served some of these associations and events for several years now, and they are starting to be old friends!
We always find BIO a very inspirational (as well as fun) meeting, and this year's events left us looking to the future once again. We look forward to BIO 2015 in Philadelphia, in our home state of Pennsylvania, as well as to serving old and new customers in the coming year. We were pleased to run into Pamela Demain, Executive Director for Corporate Licensing at Merck, who sang the praises of BioProScheduler, which she found very effective. Ms. Demain is also the President-elect of the Licensing Executives Society (LES) and she was pleased to learn that JUJAMA will be powering their annual conference this autumn. We look forward with great excitement to continuing to serve the life sciences industry…we have some interesting new roll-outs up our sleeve! Look for announcements here, on Twitter and Facebook.